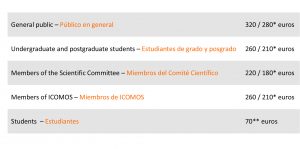 Optional activities –

Actividades opcionales

All on-site events cancelled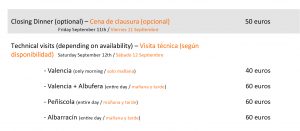 Inscription fees include the free entrance to all the lectures, one copy of the conference proceedings as well as coffee breaks and lunch buffets.
* Reduced fees until 30th April 2020
** Only for students that do not present a contribution at the conference. The fees include entrance to the lectures and coffee breaks but DO NOT include lunch buffets and conference proceedings.
Refund policy:
We will refund 80% of the fees until 15th June 2020 with the exception of the fees for additional proceedings.
---
Las cuotas de inscripción incluyen la entrada libre a las conferencias, una copia de las actas del congreso así como los cafés y las comidas buffet.
* Cuotas reducidas hasta el 30 de abril 2020
** Sólo para estudiantes que no presentan contribución en el congreso. La inscripción incluye el acceso a las sesiones y cafés pero NO incluye comidas ni las actas del congreso.
Política de devolución:
Hasta el 15 de junio de 2020 se devolverá el 80% de la inscripción (excepto las tasas correspondientes a las actas adicionales)